Sorry -- images can't load!!!--Ok, so now they seem to have loaded and both posts are in one... Still some quirks to BlogPress that I need to work out, it seems!
Work went fine today here at Fisher Studio... the porch is where I'm writing from right now, listening to rain on the tin roof. Dinner is shortly so I guess I'll pull out the umbrella to walk down to the Rock House. I certainly don't begrudge the rain, though... this part of north Georgia, like so many other areas of the country, needs the rain badly.
Pets aren't allowed here but one can get one's pet fix in with the resident cats... here's Mr. Big:
So... today I worked more on the paintings I'd started yesterday... here's some of the progress:
And then I thought I'd go into Clayton to Reeves Hardware where there are art supplies... and found stretched canvasses at 1/2 price! I bought six 24" x 36" ones and four 18" x 24". So... in addition to the unstretched pieces that I'll be putting up on the wall with staples I'll also have several stretched canvasses, as well.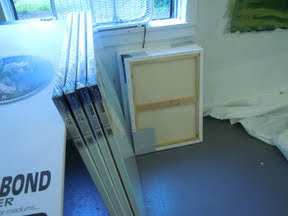 This is the beginning of the next two... these on stretched canvas. I like to roughtly paint color and then begin to build upon it.